地点:
广东
发布时间:2015-08-26 15:20:21
招聘岗位:海内外招聘——优秀博士后
招聘人数:20
招聘单位: 广东工业大学机电学院
开始时间:2015-08-26
其他说明: 广东工业大学机电工程学院教育部"电子制造装备与技术"重点实验室、广东省"微纳加工技术与装备"重点实验室陈新教授课题组因工作和实验室发展需要,向海内外公开招收博士后科研人员。
特别优秀人才直接推荐进入学校百人计划,海外人才推荐国家青年千人计划。
一、研究方向
♦ 高速精密制造装备的基础理论:高速精密运动平台的运动学、动力学优化、精密定位控制、高速图像处理等
♦ 微电子新一代封装装备及工艺
♦ 光电子微阵列结构超精密加工机床及零部件
♦面向3C制造的高速智能工业机器人及智能制造系统
二、招聘条件
申请人应具有海内外著名大学或研究机构的机械、控制、力学等专业博士学位,年龄在40岁以下;国内应聘人员需毕业于国家重点实验室,师从于院士、长江、杰青、千人等本领域的知名学者,海外应聘人员应师从于国际知名学者。
具有较强的科研能力、进取精神和创新能力;了解本领域国际学术前沿研究现状和趋势;具有较强的英文阅读与写作能力,已发表SCI论文;具有较强的动手能力和良好的沟通能力,能够全脱产进行研究工作。
三、应聘材料
1.从大学本科起不间断的学习、工作简历;
2. 博士学历、学位证书及现任职位证明材料;
3.论文及其它著作目录、专利清单;
4.两至三篇代表性论文全文;
5.个人主要学术成就简介;
6.应聘后研究工作的设想、计划和要求;
7.两封同行专家推荐信,推荐专家应是本领域的知名专家。海外应聘者应提供至少两份海外推荐信。
四、岗位待遇
博士后在站期间提供比直接入职学校更优厚的待遇。
提供18~28万元年薪(根据基础和业绩面议商定)及一套不低于一室一厅周转房予以租住。
表现突出人员课题组将派送海外合作高校和机构从事合作科研,对业绩特别优秀者还将给予额外奖励。
博士后在职期间同时获得以下两项成果者,出站时经导师推荐、所在学院同意、学校审批等程序后原则上可留校工作。
1.主持国家自然科学基金项目(含青年基金)1项或主持博士后科学基金特别资助项目1项。
2.发表SCI论文2篇(以广东工业大学为第一作者单位);或发表SCI论文1篇(以广东工业大学为第一作者单位)并有2项发明专利进入实审阶段。
其他待遇按照国家和广东工业大学有关规定执行。
五、联系方式
本招聘长期有效。应聘者请将应聘材料发至以下邮箱:chenxindu@gdut.edu.cn。
Invitation for Postdoctoral Researchers to
Join
Professor Xin Chen's Group, Guangdong
University
Position: Excellent Postdoctoral Researchers
Number of Jobs Provided: 20
Department: School of Electromechanical Engineering, Guangdong University of Technology
Applications Start from: August 26th, 2015
Description: Professor Xin Chen's Group undertakes most of the challenging research works at Microelectronic Precision Manufacturing Technology and Equipment Lab (Ministry of Education Key Lab), and Guangdong Provincial Key Laboratory of Micro-nano Processing Technology and Equipment, and both labs are located at the School of Electromechanical Engineering, Guangdong University of Technology. With the rapidly growing research work and the labs' development needs, the Group is now inviting postdoctoral researchers at home and abroad to join. Outstanding postdoctoral researchers will be recommended to the university's "One-Hundred Talents" plan; outstanding oversea postdoctoral researchers will be recommended to The National Thousand Young Talents Plan.
1. Disciplinary Directions
a) The fundamental theory of high speed & precision manufacturing equipment: kinematics of high speed & high precision motion platform and optimization; precise location control; high speed image processing
b) Microelectronics next generation package equipment and technology
c) Optoelectronics microarray structure ultra-precision machine tool and elements
d) High speed AI industrial robot focused on 3C manufacturing and intelligent manufacturing system
Ph. D. in mechanics, control, and dynamics from a famous overseas university, age below 40; applicants should be supervised by famous international scholars. Applicants at home should graduated from a key national lab and be supervised by famous scholars such as Academicians, Yangtze River scholar, National Outstanding Youth or One Thousand Talents scholars.
Applicants should have strong research ability, enterprising spirit and creative ability; have a keen understanding of the research field's international academic frontier and development trend; have good English reading and writing ability and have published SCI papers; have strong hands-on ability and good communication skills, can carry full-time research work.
a) detailed and continuous resume from bachelor degree education;
b) academic certificate and diploma of Ph.D. and statement of current position;
c) lists of papers, books, and patents;
d) 2~3 representative academic papers;
e) A brief statement of personal academic achievement;
f) work plans and requirements after joining;
g) two reference letters from peer experts who should be famous in the discipline. Overseas applicants shall provide at least two recommendation letters by overseas scholars.
4. Salaries and other Benefits
The position provides competitive salary packages which are even better than formal position of the university.
The salary for the postdoctoral researchers is between 180-280 thousand RMB per year and at least an apartment with one living room and one bedroom during the two-year stay in the post doctoral mobile stations. Special requests can be proposed if you are an outstanding postdoctoral researcher. Special cooperation opportunity and bonus will be provided to outstanding postdoctoral researchers.
Postdoctoral researchers who meet the following requirements can be employed as regular staff members after recommended by supervisor and approved by the school and university:
a) gain one National Natural Science Fund of China (or NSF youth funds) or host one special postdoctoral science fund;
b) publish two papers indexed by SCI (with Guangdong University of Technology as the first author); or publish one paper indexed by SCI (with Guangdong University of Technology as the first author), and have 2 patents under substantial assessment.
Other benefits will follow National and university's regulations.
The group will continue to look for qualified candidates until all the openings are filled. All the documents and inquiries (including CV and work plans etc.) should be addressed to: chenxindu@gdut.edu.cn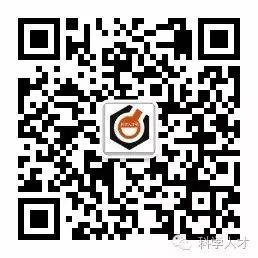 关注公众号了解最新招聘信息